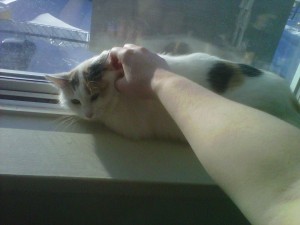 Ava is a semi-feral, 1.5 year old cat we are hoping to find a special home for. She came into rescue with her two kittens who have since been adopted by very caring and generous people. She is now "settling" into a very quiet apartment life with her foster mom.
While Ava will not run away when you enter a room, or hiss or swipe, she very obviously is not happy to be touched and will not seek out attention – although she will tolerate the occasional pet. We are looking for an adoptive home that understands that Ava may, or may not come around, and are willing to accept her no matter what. We are open to any inquiries about her. We are looking for either a quiet environment where she can be left to her own devices, or possibly someone who would like to have a barn or shop cat. She would make a great mouser.
She is not feral enough that we feel it would be appropriate to return her to the streets with a Trap/Neuter/Release program, but she is not quite suited for the life of a "family cat" either. If you think you may be able to provide her with proper care, and love on her terms,  please inquire!